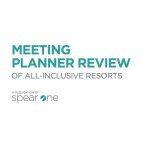 MICE Industry's demands are quite specific.
Only the best of the best is compiled on the Spear One's 2016 edition of Meeting Planner Review. Velas Resorts proudly featured on Top 5.
While the ever-growing All-Inclusive offer has been a trend for group incentive travel and business meetings, it is quite true that most of these resorts are focused on leisure travelers –a sector by its own, with very specific demands which can be quite different from those of MICE industry.
Spear One set the task to look for experts review on those options that can suit perfectly and cater to every need of meeting planners.
Such task gathered Top Influencers point of view in one volume -yet very useful- called: Meeting Planner Review – of All-Inclusive resorts.
Leading the list, Grand Velas Riviera Maya showcasing a 97-point review by Genny Castleberry – Director of Meetings and Incentive Travel at Spear One, that reads:
–"This is my absolutely favorite resort in Riviera Maya. Their theme "Beyond AllInclusive, Beyond All Compare" is absolutely on key. This luxury resort has the most exquisite food you will find in Mexico. All the guest rooms are suites and include butler service. Featuring 40 treatment suites and hydrotherapy facilities, the spa is the best in Mexico."
Position No. 4 appears Grand Velas Riviera Nayarit, with a not less important review from President of Spear One himself: Mike May:
–"This is a smaller version of the sister property in Riviera Maya with equally incredible food. The suites are twice as large as most resorts (1,000 square feet). The pool is three-tiered, with lots of palm trees and cabanas, making it easy to find a private and comfy chair with your guest." 

Flattering and inspiring reviews about Velas Resorts, which have worked 25 years so far to set the bar of outstanding hospitality, and MICE is not the exception of the quality guests and clients get form each one of the experienced and passionate personnel.
. . . . . . . . . . . . . . . . . . . . .
You can download the full version
of Meeting Planner Review here: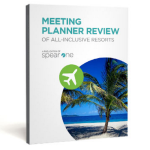 About Spear One:
Since 1993, Spear One has proven itself as a top marketing programs manager that specializes in full-service meetings and events, group incentive travel, sales channel incentive programs, engagement campaigns, sales incentive programs, channel loyalty programs, employee recognition programs and fulfillment.
http://www.spearone.com/
Velas Resorts in Social Media:
. . . . . . . . . . . . . . . . . . . . . . . . . . . . . . . . . . . . . .
Facebook  |  Twitter  |  Pinterest  |  TouTube