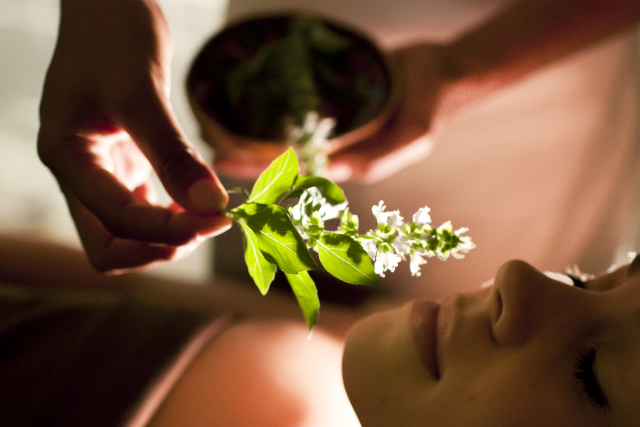 Grand Velas Riviera Nayarit Spa is now more accessible than ever for Groups and Conventions. The resort responds to Meeting Planners' request to add value to sessions, designing exclusive programs that redefine the concept of All-Inclusive. Groups can now experience the benefits of true relaxation during their retreats with the integration of elements from the Spa fitness program, award-winning ambiance and revitalizing treatments.
We can bring the Spa benefits to the Convention Center to create work sessions unlike any other, some these exclusive services are:
Private fitness classes
Your group can enjoy of special and small fitness classes, adding a sense of healthiness to your stay. Enjoy of 50-minute classes to start the work day with energy or add them to the schedule of activities; select from Yoga, Pilates, Zumba or Polynesian dance.
You can choose indoor or outdoor venues for these sessions, the options go from Spa wood-flooring rooms to Ocean garden and Gazebo Terraces.
 Massage during your opening event, farewell event or coffee break
Maximize your group's performance with a five-minute massage in Shiatsu chairs. Delight session attendees with this distinctive interlude that will increase the energy in the room and will ease the ambiance.
Spa in your meeting
Add a unique touch to your meeting or session; welcome your participants to an early session with a delicious cup of organic Coffee, a head and shoulder massage, invigorating aromas and uplifting music.
Allow us to create an ambiance of harmony and relaxation with aromatherapy techniques that will improve your attendees' experience. Moreover, your guests will receive a delicate massage at the hands of our expert therapists, eliminating all the stress and renewing your energy to continue the work session.
Self-massage classes
This is an activity that all companies should take into consideration. Learn to control stress by breathing and basic massage and self-massage techniques to relax daily emotions brings incredible benefits to the attendees' lives.
This interactive class is given by one of our therapists, where participants learn massage and self-massage techniques.
Spa Coffee Break
Continue providing a healthy experience to your meeting or event participants. Include a healthy coffee brake inspired by the revitalization of the spirit and body. We can provide a bar with light bites like dried fruit and healthy cookies; vegan snacks, fresh fruit, energizing fruit, Mexican aguas frescas and hot tea.
Additionally, to maintain an enthusiastic ambience, aromatherapy therapies are applied, as well as relaxing music during the intermission.
For more information, contact Velas meetings info@velasmeetingsmexico.com
*These services have an extra cost added to the Group's master account.