by Marco Lopez
Riviera Maya deserves more than one visit to delight on the many culinary, cultural, traditional and natural experiences.
There is so much to recommend for Meeting Planners who visit Riviera Maya during MICE trips that I found it hard to pick from the vast natural and cultural richness this generous region has to offer: from cultural spots and eco-parks with impressive infrastructure, cenotes (sink holes adored by the ancient Mayan) coral reefs and archaeological sites, renowned shows and performances, including the infinite array of activities. I gave myself to the task of interviewing some remarkable DMC's to gather the difficult selection of Top 5 Things to do in Riviera Maya on your next trip to this divine paradise. Let's go through them: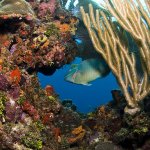 1.- Mesoamerican Coral Reef. We have the proud to count with the largest coral reef (of about 621 miles) in the western hemisphere just in front of our coasts –and second largest in the world with the Australian Great Barrier Reef taking the first place, which is currently facing serious stress conditions after the heat waves Summer '17 left behind, according to the Australian Government report.
The Mesoamerican Reef displays an extensive count of coral species of many forms and textures and it's home to a numerous variety of marine species such as turtles, rays and fish, which makes for an exceptional scenario for snorkeling and scuba diving. Catamarans and small vessels make the journey plentiful of incredible landscapes and boat sightseeing to complete the experience; visitors are warned to help maintain the peaceful environment the reef is surrounded with, by avoiding direct touch or damage to the corals. Eco-friendly suntan is always a good choice to preserve this ecosystem.
2.- Tulum Ancient Archaeological Site. Just at 40 minutes south Riviera Maya the sacred land of Tulum rises up from the cliff that served as natural protection of this glorious city, it's name actually means "city wall" in Mayan. It is the only –known– archaeological pyramid of its kind ("castle") to be built next to the sea. Mangroves and jungle vegetation can be found in the vicinity of Tulum, and the optimal conditions of the structure allow visitors to approach the Mayan mysteries and their outstanding mastery of science. It is of good help to count with the expertise and knowledge of a qualified tourist guide to delve into the history of this majestic place and learn about how it served as a commercial port and astronomic observatory. Comfortable shoes and solar protection are recommended.
3.- Xel – Ha. An eco-park –part of Xcaret Group– that offers entertainment and fun guaranteed for all ages. There is an array of activities to explore, and their all-inclusive passport makes it quite convenient to get the most out of your day exploring, splurging, diving and swimming. Underground rivers of fresh water meet at a large cove of salty, crystalline turquoise waters where natural phenomena called thermocline and halocline occur, serving as home to a wide variety of marine vegetation and fish –and giving it the fame of a spectacular natural aquarium.
Snorkel and scuba diving, journeys through the rivers, biking and nature explorations on the in-site nursery are part of the many activities Xel – Ha possesses. For those seeking adrenaline, the recently opened super slide will cover any expectation of adventure.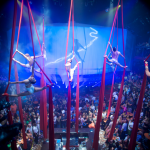 4.- Joyá by Cirque du Soleil. Every project launched by this theater company is an undisputable masterpiece of art and performance, and Joyá is not the exception with a display of avant-garde infrastructure in the style of a 'palapa', and it's just a few minutes away from Playa del Carmen.
A sensory experience that every group will enjoy with gourmet dining to complement the soiré together in a show that makes honor to the hallmark of Cirque du Soleil mastering acrobat and circus arts, live music and performances showcasing the cultural legacy of Mexico and the Mayan Riviera.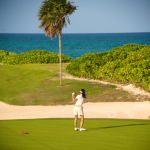 5.- Golf. The opportunity to perfect your technique becomes a reality on the many options Riviera Maya –and the Quintana Roo State as a whole– offer. The best designers have been invited to develop the most challenging courses that take advantage of the terrain orography; names like Jack Nichlaus or Greg Norman appear on the list, making of every golfing experience, a unique adventure surrounded by the most incredible landscaping and scenery. Jungle views, lush vegetation, natural cenotes and rivers have placed the region among the limelight of golf experts –even a tournament by PGA is held at the Camaleon Golf Course, which is something just a few places in Latin America can boast about.
A quite difficult task was this of selecting just 5 attractions for MICE travels, since Riviera Maya is placed among the best sites to visit for its impressive amount of activities. Yet, I have to add a few more: from Selvatica where you can fly on a zip line and Rio Secreto which showcases an adventure through a cave that has been preserved impeccably along the time, to the fascinating city tours along the 5th Avenue in Playa del Carmen with multiple dining options, bars and boutiques with the Mexican touch that attracts millions of tourists every year.
Riviera Maya, in fact, deserves more than one visit to delight on the many culinary, cultural, traditional and natural experiences. For those in search of all said plus a perfect time of relaxation and pampering, take a look to the SE Spa by Grand Velas Riviera Maya, which have proved perfect hosts of Meetings and Incentive travels from around the world –warm hospitality and fine dining outlets in 8 restaurants are their quintessential signature–.
Thank you for reading! Upcoming news about Riviera Maya will be out soon.
More about Meetings in Velas Resorts: velasmeetingsmexico.com or write to info@velasmeetingsmexico.com
About the writer: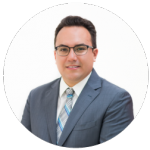 Marco has a wide trajectory with Velas Resorts: 2 years at Group Coordination area, and over 3 years assuming the Sales Manager post. His experience has been mainly focused in hospitality –8 years in total–, and has postgrads in Publicity and Sustainable Tourism. He is an avid open water diver. mlopezr@velasresorts.com