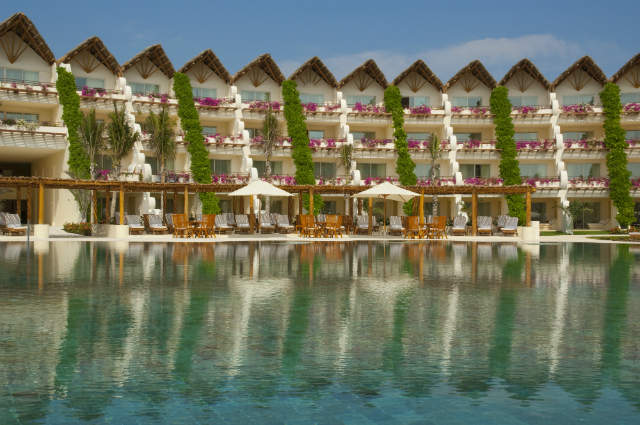 Have you visited Mexico lately? This warm, inviting country offers world-class beaches, fascinating history and culture and gourmet options on par with some of the world's finest culinary destinations.
Here you can enjoy the highest standards of hospitality, complemented by the authentic, inviting spirit that Mexican people are known for worldwide. It is a way of life in which guests are welcomed as part of the family; people take pride in showing visitors the local natural wonders and celebrating their rich heritage.
 Mexico's unique take on luxury standards is full of art, poetry and warmth. You'll delight in genuine smiles, a genuine interest in the client and a deep understand of the fact that each person has different preferences and necessities. The service is complemented by tradition that permeates every aspect of the experience.
Mexican Cuisine has been officially part of the Intangible Heritage of Humanity by UNESCO since 2010. Tomatoes, avocados, cocoa, and vanilla are just a few of the ingredients Mexico has contributed to the great cuisines of the World.
The country also has one of the highest numbers of archeological sites in the world. Our lands hold ancient secrets, including the grand fortress of Tulum near Grand Velas; a magnificent Mayan fortress overlooking the turquoise waters of the Caribbean.
From the resort, you can also easily explore this destination's other highlights as well, such as the beautiful theme parks of Xel-ha, Xcaret, and Xochimilco. Venture to the pyramid of Chichen Itzá or experience the sensation of snorkeling in one of the Yucatan's freshwater cenotes. White sand beaches, verdant greenery, and ancient Mayan secrets are waiting to be explored.
Pair these wonders with the most modern facilities for groups and conventions and you have a match made in heaven.
WHY GRAND VELAS?
 We recommend Grand Velas because you simply have not seen it all until you have experienced our unique form of luxury and hospitality. Here you'll experience beauty at every turn, elegance and sophistication unlike anywhere else, and amenities and services that make meeting planning a dream.
This dream had to be shared to make it true. 11 years ago the Vela family redefined hospitality standards, creating two grand tourism jewels; Grand Velas Riviera Nayarit in the Mexican Pacific and Grand Velas Riviera Maya on Mexico's Caribbean coast.
The goal was to host incentives and groups with highest standards of hospitality, and they found that no one even came close to the level they had in mind. An architect, engineer, and attorney joined forces to build both properties, contracting one of the best interior designers in Latin America to make the project esthetically breathtaking.
The result of their efforts was membership in The Leading Hotels of the World and AAA Five Diamond Awards for both resorts.
Grand Velas Riviera Maya | The Best in the Caribbean
 Grand Velas Riviera Maya simply must be seen to be believed. The Vela brothers redefined standard room sizes with all suites, all with Jacuzzis, taking the concept to the next level at Grand Velas Riviera Maya, where guests select from three separate ambiances.
While other resorts charge additional fees for terraces and spacious suites, the Vela brothers understood that everyone is important enough to enjoy a 1,000+ sq. ft. suite with Jacuzzi, separate rain shower, imported linens, white goose down comforters, pillow menu and state of the art electronics.
At Grand Velas Riviera Maya guests enjoy all standard five-star amenities plus many other surprises and delights.
Groups are never relegated to buffet lines; instead they enjoy internationally acclaimed dining experiences at the hands of expert chefs. A la carte menus in seven restaurants create a culinary experience to remember, every time.
The resort's Convention Center proves that you never have to sacrifice beauty for function. Its majestic, air-conditioned foyers and cathedral ceilings embody luxury and elegance; complemented by the finest banquet facilities, linens, drapes, dishes and crystal ware.
Each of the three ambiances presents something new and exciting to explore, with three sprawling swimming pools accented by their pristine tropical surroundings.
In the Zen Grand ambiance, one can appreciate exotic suite décor, verdant greenery, babbling freshwater streams and the sounds of the jungle. The Ambassador ambiance brings a sensation of peace and harmony with neutral furnishings and sweeping ocean views, while the Grand Class Ambiance takes guests to the edge of the turquoise waters of the Caribbean, in the most opulent of accommodations.
Choose Grand Velas to introduce guests to the ultimate luxury experience; enhanced by the warmth of Mexican culture.