When planning an incentive trip, you have to consider one too many things to fulfill everyone's needs. From finding a place with suitable facilities and services, and properly cater to either small or large group's needs, to keep your attendees focused and give spare time for them to enjoy an incredible experience.
First task, and sometimes the most difficult one, is deciding the destination. Location is one of the top things to bare in mind when it comes to MICE travels. So, finding optimal airport connection and an easy-to-get destination, with stunning accommodations, attention to detail, and remarkable culinary experience can add a lot of stress to the selection/planning process.
To make it easier for Meetings and Incentive Planners, TripAdvisor has announced the Top All-inclusive resorts for 2019 winners, which are selected according to the number and quality of traveler's reviews along the year. Part of these proud winners are two properties of the Velas Resorts collection, which made it to the Top 10. 
Grand Velas Riviera Nayarit and Grand Velas Los Cabos, part of the luxury Grand Velas Brand, are located in two of the most inspiring and fascinating beach destinations in Mexico.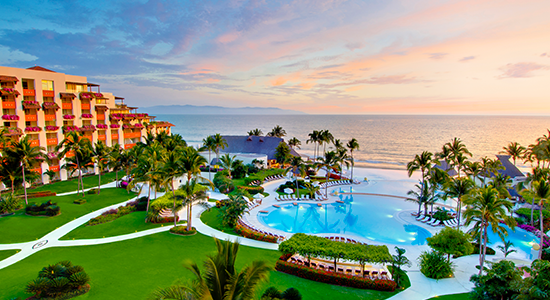 Down the Pacific coast, Grand Velas Riviera Nayarit proudly holds the AAA Five Diamonds award, offering an exquisite, unique experience in one of the most traditional destinations in Mexico: the luxurious Riviera Nayarit.
With 267 oceanfront suites, guests enjoy luxury and relaxation from the very first second, and renew body and soul in signature SE Spa, awarded as "Most Excellent Spa Hotel" by Condé Nast.

In Cabo San Lucas, right where the desert meets the sea, the astonishing architecture and design of Grand Velas Los Cabos stands out. This resort features oceanfront sophistication, with superb accommodations, three infinity pools, an expansive Convention Center and beautiful outdoor venues to hold all kinds of events, any time of the year.

Awarded –just 1 year after its grand opening– with Five Diamonds by the AAA for world-class service and facilities, this ultra-luxe property is surrounded by jaw-dropping views to the sea from each of the 307 suites.
The Luxury All-Inclusive experience at Grand Velas Resorts invites guests to embark on a culinary tour around the most exquisite cuisines in the world at fine dining specialty restaurants. Savor Italian and Mediterranean cuisine at Lucca, traditional French gastronomy with innovative spirit at Piaf and haute Mexican cuisine at Frida. Delight on exotic dishes in a chic and inviting atmosphere at Sen Lin in Grand Velas Riviera Nayarit, and be mesmerized by the creative spirit of 2 Michelin-starred Chef, Sidney Schutte, who will delight the most demanding palates in Grand Velas Los Cabos.

Be part of the Velas Resorts experience. Plan your next Incentive Trip to the most outstanding destinations with a professional team of MICE travel experts.
Request your proposal today.

Visit: https://velasmeetingsmexico.com