Velas Meetings is further strengthening its relationship with the Colombian market. Last month Eloisa Pérez, our Group Sales Manager for Mexico and Latin America, visited this gorgeous country to inform Colombians about what Mexico has to offer the Convention Tourism Industry.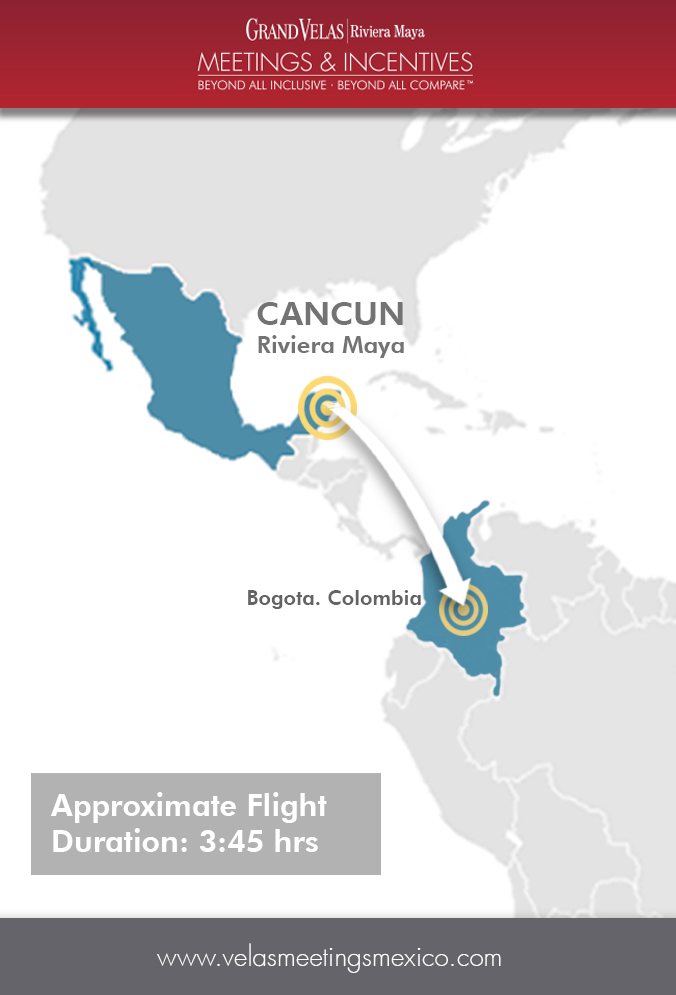 Having established a strong relationship with the country, Mexico has seen tourism from Colombia increase as travel to other countries has become a trend among the Colombian population.  Grand Velas was invited to demonstrate what Mexico has to offer within the MICE sector.
The Colombian market seeks an increased number of vacation options, which is why we have compiled this list of our top reasons for Colombian event planners to consider Mexico.
Colombians do not need a visa to enter the country; they are more than welcome to visit Mexico.
Mexico has such a rich history; the opportunity to visit archaeological sites and learn about mystical cultures is a great experience that complements visitors' stay in a sublimely beautiful destination.
The transportation between these two countries is very effective. There are direct flights from Colombia's capital of Bogotá to the always-friendly Cancun, Mexico. The flight is less than four hours, making the transportation of a large group simple.
The culture of Mexico is one of the most colorful on the globe; with its delicious cuisine, cheerful mariachi and traditional tequila and mescal, Mexico is a great destination for having a great time with family and friends.
Last but not least, its beautiful beaches. Between the pristine waters of the Pacific and the crystalline blue sea of the Caribbean, visitors have numerous beautiful options to choose from.
With two properties in the country's premiere destinations- the Riviera Maya and Riviera Nayarit– Velas Resorts offers the best luxury experience with an All Inclusive rate. We look forward to hosting Colombian events and incentives at both of our resorts.
For more information please click on this link or contact a Grand Velas Sales representative.